Most villages in France have a farmers' market once a week during certain times of the year. These markets are often a mix of stands and stalls offering homemade items, cheeses or a full-range of produce straight from the farm.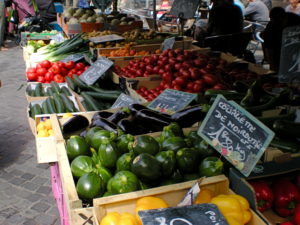 Some of the larger villages have foires (fairs), which occur once or twice a year, sometimes on holidays, like Christmas. The Strasbourg Christmas market, for example, dates back to the Middle ages, with over 300 chalets spread over 11 miles. A few other notable examples are, the wine markets in Bordeaux, the fish market in the old port in Marseilles, the olive markets in Provence and the gastronomic markets in Périgueux.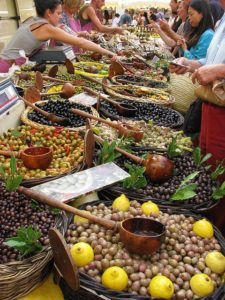 In 1979, while I worked as an au pair in the Loire Valley, I attended the farmers' market in the nearby town as often as possible. Here is an excerpt from my memoir, French Illusions: My Story as an American Au Pair in the Loire Valley, chronicling one such event.
"When I reached Songais, I veered right toward the main plaza. This cobbled area provided the ideal location for the event, drawing considerable crowds, even at this time of year. Musicians augmented the festivities with lively folk music while couples dressed in local costumes twirled around the square. Tourists, identifiable by their odd clothing choices and cameras swinging from their necks, wandered from vendor to vendor, photographing unusual items and purchasing souvenirs.
Rows of tables presided over by neighboring farmers and tradesman filled the square, many of them offering tempting samples to potential customers. Everything from pungent goat cheeses to handmade sweaters was on display. Ahead, I noticed a booth offering tastes of guignolet, a local liqueur made from wild and sour cherries. The vendor, a deeply tanned man wearing a beret, waved me over. "Mademoiselle! Venez donc goûter!"
Unable to resist the temptation, I stepped up to his booth and he poured me a small drink, pushing it toward me with a wink. Down it went, its syrupy sweet taste so scrumptious I licked my lips afterward. "Merci," I said. "C'est très bon."
Down a few stalls, I discovered products made entirely from honey, including confections, lotions, and soaps. The scent compelled me to bring a bar to my nose, closing my eyes as I inhaled.
Curious about a small crowd near a retailer up ahead, I peeked around a bystander and discovered a colorful display of misshapen orange, yellow, and striped squashes. It took me a few moments, but my eyes honed in on the real stars of the show. Unique samples of squash resembling geese and ducks sat upright, charming the audience, the children in particular.
Near the end of the market, I stumbled across a few booths featuring knitted sweaters, hats, and scarves, along with shoes. A pair of short suede leather boots caught my attention and my pulse rate accelerated. The vendor, a plump energetic woman, encouraged me to try them on in my size.
I gazed down at my feet, turning left, then right, in front of the mirror. I loved them. They would be a splurge, given my small allowance from Madame, but I really wanted them…"
You can purchase a copy of my book at Amazon.com. For a nominal fee, you can add audible narration with Whispersync. The audiobook is also available at Audible.com.