My diary from 1979 recounts my adventures living and working as an au pair at the Château de Montclair, in France. Most of my diary entries revolved around my relationships with the family, but on occasion, I included recipes of favorite drinks or meals I shared with the family.
Tomates farcies au porc, was one of the recipes I highlighted in my diary.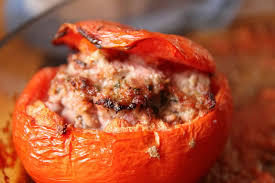 Here is an excerpt from my memoir, French Illusions: My Story as an American Au Pair in the Loire Valley, describing my first introduction to this tasty dish.
"Sunday morning, I descended the stairs into a flurry of activities as the Dubois family prepared for Colette's eighth birthday party. After her abominable behavior the day before, I debated whether I wanted to attend the celebration. In the end, however, I felt compelled. Not only would it be nice to see the Moulons, but also it would give me multiple opportunities to practice French.
Madame Dubois appeared frazzled in the kitchen, strands of hair loose around her face, dots of perspiration on her forehead, her apron twisted to the side.
"What are you preparing?" I asked, peeking around her before pouring myself a cup of coffee.
"A family favorite called tomates farcies au porc."
The sausage and rice mixture looked and smelled familiar with some sort of herb variation.
"My mother stuffs cabbage and peppers, but not tomatoes." I bent closer, my nostrils flaring. "What other seasoning did you add besides garlic?"
"Rosemary, sage, and thyme."
I watched as she filled the hollowed tomatoes, placing their stemmed "hats" back on before shoving the dish in the oven to bake.
"What else is on the menu?"
"A crab mousse with avocado and a Camembert cheese and broccoli quiche." She wiped her forehead with her sleeve.
"Sounds yummy.""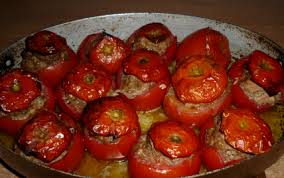 For those of you that want a recipe for tomates farcies, here is one from La Tartine Gourmande.
If you would like more information on my French Illusions Series, please visit my website.