In my opinion, France has some of the most remarkable bridges in the world. Here are four of my favorites, three of which are located in "The City of Light."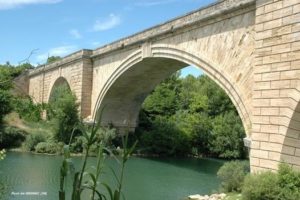 In southern France, you'll find the Gignac Bridge, which traverses the Hérault River. There is a plaque on the side which reads, "Judged the most beautiful bridge of the 18th century", a sentiment shared by the Michelin Green Guide describing it as "the finest 18C bridge in France because of its daring design and the beauty of its architectural lines."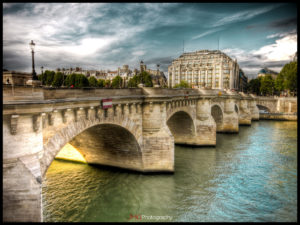 The oldest bridge crossing the Seine in Paris, France, is called the Pont Neuf or "New Bridge." It was awarded this name to differentiate it from other older bridges existing at the time. Construction began in 1578 ending in early 1600 with two separate spans, with five and seven arches, connecting the left and right banks with the Île de la Cité.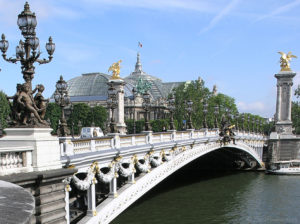 The extravagantly appointed Pont Alexandre III, considered a historical French Monument, is a deck arch bridge that crosses the Seine River in Paris. Inaugurated in 1900 for the Universal Exhibition, it connects the Invalides and Eiffel Tower with the Champs-Élysées quarter.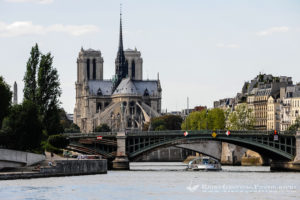 The Pont de Sully bridge opened to traffic across the River Seine in Paris, France, in 1877. I describe my first glimpse of this bridge in From Tours to Paris, my sequel to French Illusions: My Story as an American Au Pair in the Loire Valley.
"Fifteen minutes later, we spotted the Pont de Sully bridge over the Seine. "Wait until you see the view." Michel urged me forward with a hand on the small of my back. Once we reached the middle of the bridge, he lowered my suitcase to the ground and pointed west. "There's Notre-Dame Cathedral on Île de la Cité."

I lifted my right eyebrow. "That's an island?"
"Yes, and we'll cross over Île Saint-Louis to reach the Right Bank on the other side."

We stood there for a few moments and I drank in the scene. Peaceful rustic gray barges—one trimmed in bright orange and blue—rested alongside the river's seawall. Random terra-cotta flowerpots filled with purple winter pansies or miniature pine trees rested on a few decks. Off in the distance, a second arched bridge, Pont de la Tournelle, offered people another route on and off the island, and the multi-towered Notre-Dame Cathedral, proudly displayed its French Gothic architecture.

Wow, what a view. I can't believe I'm actually here in Paris, seeing all of this in person. "It's incredible, Michel."

"Ouais, c'est vrai." He gave me a quick kiss and picked up my bag. "We should go—we have about a kilometer left."

I reluctantly followed his lead."