Goodreads:
The Francophiles Group — Discover authors and books centered in France
Facebook: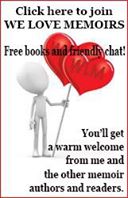 Author-Friendly Websites & Blogs:
Book Nerd — Book Reviewer
France Book Tours — Virtual book tours connecting authors and bloggers with a passion for France
The Discerning Reader — All Things Books
The French Village Diaries — Passionate about everything French
Memoir Writer's Journey with Kathy Pooler
Franki Durbin — Luxury lifestyle blogger
English Informer in France — A national online lifestyle magazine.
The Literary Word — Helping fellow book addicts to find the great books.
Victoria Twead — New York Times Best Selling Author
Colletta's Kitchen Sink — A little bit of everything. Even the kitchen sink.
As The Pages Turn — Interviews, guest posts, book reviews and spotlights.
Between the Covers — Book spotlights, author interviews, guest bloggers & book giveaways.
Blogcritics — An online magazine covering the arts, culture and society.
Book Marketing Buzz — Book promotion and publicity tips for authors.
The Examiner — Online newspaper
I am a Reader — Young adult book blog reviews and giveaways.
Literarily Speaking — Author interviews, guest bloggers, book reviews and monthly giveaways.
Review From Here — Tracee Gleichner's book recommendations, reviews, favorite quotes, book clubs.
The Book Connection — Where readers and writers connect.
The Story Behind the Book — Authors reveal the stories behind their books.
The Writer's Life — eMagazine
Self Publisher's Showcase — Find great books from self-published and small independently-published authors.
Savvy Book Writers — Get inspiration for your Author-Publishing and Book Marketing from almost 900 Blog Posts.
Recommended Author Services:
Memphis McKay — Specializing in author websites and custom WordPress development.
Pump Up Your Book! — Virtual Publicity Book Tours
Editor Deluxe — Lizzie Harwood: story editor – writing coach – copy-editor.
Book Polishers — Offering everything you need to take your writing from draft to publication.
Open Colleges — Providing life changing education for over 100 years.