When I lived and worked as a nanny for the Dubois family in France in 1979, I performed many of the routine cooking tasks, like baking bread and making yogurt from scratch.
On one special occasion, a few months after I arrived in the Loire Valley, I had the opportunity to prepare my mother's Croatian apple strudel as a special dessert.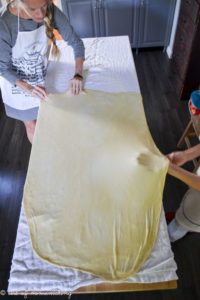 Here is an excerpt from my memoir, French Illusions, My Story as an American Au Pair in the Loire Valley, describing this event.
"In the afternoon, I diverted my attention to baking my mother's Croatian apple strudel, the featured dessert for our welcome-home dinner. A long, complicated process, it involved stretching the dough with your fist until it was paper-thin, adding an apple cinnamon mixture, and then rolling up the whole thing into a log using a tablecloth.
Some of my fondest memories as a young child involved baking this beloved dessert with my mother in our tiny yellow kitchen.
"Lindy, don't pull too hard," she would murmur as we stretched the dough over a tablecloth before adding the filling.
I rushed the process often, and holes would form in the dough. She never scolded me, choosing instead to repair my damage and move on. A patient, loving woman, she told my brother and me that her heart was "too soft," which I always translated to mean "no heart for discipline."
As I placed the strudel in the oven to bake, tears blurred my vision and a lump gathered in my throat. Overwhelmed with nostalgia for my mother, I found comfort in knowing she would be pleased I had chosen to make her strudel now."
You can find a recipe for Croatian apple strudel at Cooks.com.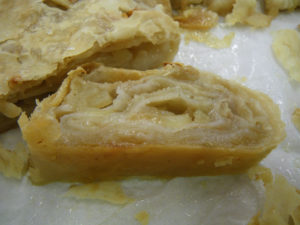 If you would like to learn more about my experiences in France, you can purchase a copy of my book at Amazon.com. For a nominal fee, you can add audible narration with Whispersync. The audiobook is also available at Audible.com.