When I traveled to France in 1979 to work as an au pair, I brought my trusted Kodak pocket Instamatic camera along so I could capture some special moments. The camera was small enough to fit inside my purse or pocket, hence the name.
Looking back, I wish I would have taken more photographs, but as we all know, hindsight is always crystal clear. Here is a photo of the train I took whenever I visited the nearby town of Tours. It was a pleasant ride, especially after I met the handsome attendant on board. I capture this scene in my memoir, French Illusions, My Story as an American Au Pair in the Loire Valley.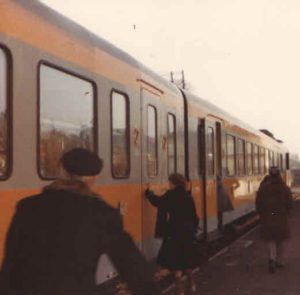 "As the train pulled out of Songais, the attendant, a young man about my age, sauntered down the aisle, his gaze darting back and forth as he identified new passengers. I watched him, admiring his masculine features, until he reached me. Our eyes locked, his sky blue on my moss green, and my stomach lurched.
"Vous visitez Songais?" he asked.
"Non, je suis arrivée récemment," I said handing him my rail pass. No, I arrived recently.
He glanced at my document and leaned in closer. So close, in fact, that I smelled his cologne, musk with a hint of citrus. "Linda . . . d'où êtes-vous?" Where are you from?
"Je viens des États-Unis."
He smiled and my heart fluttered. "Enchanté," he said, and added, "Je m'appelle Renaud."
"Enchantée," I responded, feeling tongue-tied.
Renaud tried out his English. "How long you visiting?"
"Many months," I muttered.
"It is wonderful!" he exclaimed, and heads turned to look at us. I felt the heat rush to my cheeks. "I go now, Linda, but I hope to see you again."
Picking up his pace, he moved down the aisle and exited into the next coach. A few of the passengers glared at me, but I ignored them. I had enjoyed my interchange with Renaud and felt flattered to receive so much attention from such an attractive Frenchman. From now on, my rides to and from Tours might be the highlight of my day."
You can purchase a copy of my book at Amazon.com. For a nominal amount, you can add audible narration with Whispersync. The audiobook is also available at Audible.com.