Shortly after I arrived in the Loire Valley in 1979, my patron, Madame Dubois took me shopping in the nearby town of Songais (not the real name). Many of the sights in this small town were unfamiliar to me and I remember my mouth dropping on more than one occasion as we passed by ancient buildings or unusual merchants. One of the most memorable shops we visited that day, was the butcher shop.
Below is an excerpt describing this scene from French Illusions: My Story as an American Au Pair in the Loire Valley. The photo below was taken by me with my Kodak Pocket Instamatic camera.
"My mind spun with history until the butcher's shop came into view.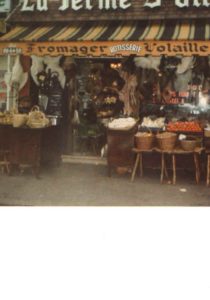 Whole chicken and duck carcasses hung by the neck from the outdoor awnings, their lifeless bodies flaccid.
Repulsed, I glanced at Madame and she offered an explanation. "Many residents here prefer to choose a particular bird for dinner." Then, reacting to my dropped jaw, she added, "Don't worry, I will never ask you to pick out fowl for our meals."
The butcher, a rotund man with a mustache, spotted us through the window and joined us outside.
"Bonjour, Madame Dubois," he said, exposing large, irregular teeth as he wiped his palms on his bloodstained apron. Turning to me, she translated the rest of his words. "He wants us to come in and have a taste of his rabbit pâté, freshly made this morning."
We all stepped inside the shop where he presented us with samples of his creation. It was my first look at pâté. Once I got a whiff of it, I wasn't sure I wanted any, but I took a taste dutifully.
"What do you think?" Madame asked, her voice filled with interest.
"It has a mild flavor, sort of like chicken."
Madame Dubois translated my comment to the butcher, and he eyeballed me with suspicion before refocusing his attention on his patron. Impressed with the pâté de lapin, she decided to purchase a half-kilo, along with four lamb shanks.
While she completed her transaction, I perused the cramped shop. In the display case, skinned rabbit carcasses lay next to each other like sardines, while diverse kinds of meat, many of them unrecognizable, dangled from the rafters or sat ready on cutting boards. Feeling uncomfortable among all this flesh, I scrunched up my nose and meandered outside, content to leave mysteries behind me."
You can purchase a copy of my book at amazon.