We all have memories we cherish, and for many of us, these memories revolve around our childhood. My mother loved cooking more than anything else in the world and she would spend hours in her kitchen preparing meals for the family. My brother very much appreciated her efforts, but alas, I was a very picky child. No amount of coaxing or pleading would open my mind to her "healthy" recipes, so she often prepared separate meals for me (so I wouldn't "starve"). One of my favorites was palačinke, better known as crepes.
When I traveled to France in 1979 and worked as an au pair, I prepared this dish for the children on a few occasions. Here is an excerpt from my memoir, French Illusions: My Story as an American Au Pair in the Loire Valley:
"Colette watched, her eyes full of curiosity, as I grabbed a wooden spoon, measuring cups out of the drawer, and a large bowl out of the cupboard. Flour, sugar, and salt came next, then milk and an egg out of the refrigerator. Eventually she guessed what we were making.
            "I adore crepes!" Colette exclaimed, her volume escalating with excitement. "Mama never makes them for breakfast."
            A triumphant smile appeared on my face. "Do you want to help?" At her enthusiastic nod, I pulled over a stool so she could wash her hands.
Taking turns, we added all the ingredients, mixed them together, and then I ladled a spoonful of batter into a pan. Colette watched the crepe cook, nostrils flaring while inhaling the delectable aroma. When the time came, I encouraged her to flip it over with a spatula.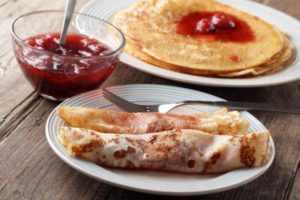 When the crepe was ready, I laid it on a plate and handed it to her. "You eat now."
Colette licked her lips as she carried the plate over to the table, spread some homemade jam on it, rolled it up and gobbled it down. Moments later, she returned to my side.
"More, please," she said as I lifted another two onto her plate.
            The crepes piled up after this, so I placed them on a dish in the oven to keep them warm. Colette managed only one more serving before she slid out of her seat to leave the room.
"I'm going to go watch television now."
            "Yes, but tell Antoine to come to breakfast first."
            She lifted her chin. "Why can't you tell him?"
I glared at her until she spun around and ran up the stairs. Shaking my head, I walked back over to the stove and continued cooking."
You can purchase a copy of my book at Amazon.com.