When I worked as an au pair in the Loire Valley in 1979, I sampled many fabulous wines, from Sauvignons to Cabernets. Once, as I strolled through the farmers market in the Loire Valley, I sampled unfermented new wine. Here is an excerpt from my memoir, French Illusions: My Story as an American Au Pair in the Loire Valley, chronicling that event.
"Up ahead I noticed a vendor offering samples of Bernache, unfermented new wine. Before I left the château this morning, Monsieur Dubois warned me I might not like the taste of this popular drink, enjoyed mostly by the locals this time of year. Stepping up to the merchant, I pointed to a glass, and he handed me a taster. "Merci, Monsieur," I said and sipped.
"Comment le trouvez-vous, mademoiselle?" How do you find it, Mademoiselle?
"C'est très bon," I fibbed, forcing down the overly sweet liquid.
He chuckled, seeing through my ruse."
The Lillet and the Kir were two of my favorite French aperitifs. The Lillet is produced in le Bordeaux region of France and it's a combination of white wine and orange liqueurs. The "Kir" I sampled was a combination of dry Burgundy, white wine, and blackcurrant liquor. These flavors combined to produce tart and sweet flavors at the same time – a delightful combination.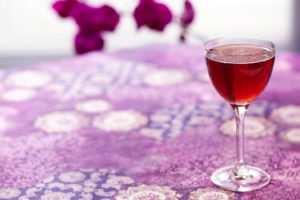 For those of you that want a simple recipe for a Kir, here is one from Saveur.