Traveling abroad and living in Paris in 1980, when I was in my early twenties, was a big deal. It was the kind of experience I dreamed and talked about long before I worked out a way to make it happen. Even though I was on a tight budget at the time, I enjoyed La Ville Lumière, or City of Light, on many levels.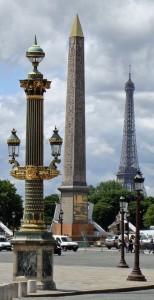 One of my favorite memories is the day I toured the Place de la Concorde with Michel. Here is an excerpt from my memoir, French Illusions: From Tours to Paris, describing this magical event.  
"As if drawn by invisible strings, we approached the ancient obelisk. When my eyes swept skyward, up the shaft to the gold-leafed pyramid cap, a shudder ran through my body.
"Where did this come from?" I asked, breaking the silence.
"It was a gift from Egypt to France in the early 1800s, and the fountains over there, and there," Michel pointed left and right, "were erected at the same time."
We moved closer for a better look and Michel's voice turned wistful. "This fountain is one of my favorite sights in Paris. The symbolism of the "rivers and the seas" of France speaks to me."
Six bronze, half-nude figures, seated in the prow of a ship, supported the lower basin of the fountain, while four statues held an inverted upper basin with a mushroom-shaped cap. Surrounding the fountain were six additional bronze and iron tritons, perhaps eight feet tall, holding gold-colored fish. Water spurted from the fishes' mouths and the fountain's cap, splashing and mingling with the water bubbling and running down the basins.
"It's impressive. I can see why you feel that way."
I looped my arm in his and we advanced toward the Tuileries Gardens, with Michel pointing out a few more sights. "There's the top of the Tour Eiffel, and over there is the Musée d'Orsay, currently under construction." He scratched his head for a moment before gesturing left. "I believe that's the Madeleine church."
Glancing at my blank expression, he added, "If you'd like, we can try to find you a book that describes some of these places in English."
What a sweet suggestion. "Thank you. I would like that very much."
As we approached a large shallow basin with a central fountain, I noted a small arch off in the distance, similar to the one we admired hours ago. Puzzled, I glanced at Michel and he offered a simple explanation. "That's the Arc de Triomphe du Carrousel.  It's a smaller, older version of the arch we saw earlier."
"And what about that building straight ahead?"
"That's the Louvre Museum, but we'll save that for another time. There are so many things to see inside, we could spend a whole day in there." His coffee-browneyes searched mine. "I know it's a lot to take in. What do you say we get a bite to eat and I'll tell you more?"
"Okay." I touched his arm. "Thank you so much for the tour today. You were the perfect guide."
He brushed his fingers against my cheek. "Tout le plaisir était pour moi." My pleasure.
Lifting my brows, I scanned the people around us and pulled out my Kodak pocket Instamatic camera. "Do you think someone would take our picture?"
"Oh, sure."
Michel walked over to a nearby couple, handed them the camera, and we posed in front of the fountain. When they passed it back to me, I offered them a quick "Merci."
As we moved forward, I glanced over my shoulder and my breathing paused. Between the budding trees, in an impressive, tidy row, I saw the obelisk, the large basin, the fountains, and finally, the extraordinary Arc de Triomphe. It was a spectacular view and I had a hard time turning my back.
When I stumbled, Michel laughed and righted me. "You don't have to memorize the view, ma belle. We'll return to the Place de la Concorde again and again over the years to come."